Antoni van Leeuwenhoek, the inventor of the first microscope, was born 500 year ago. The exhibition takes the form of a petri dish, in which nine artists and collectives experiment with and present work on the basis of bacterial and microbial worlds as an endless conversation between people and the living environment. Microbes dance, mingle, fuse and partner within human bodies, not only affecting health, but our cultural and social reality.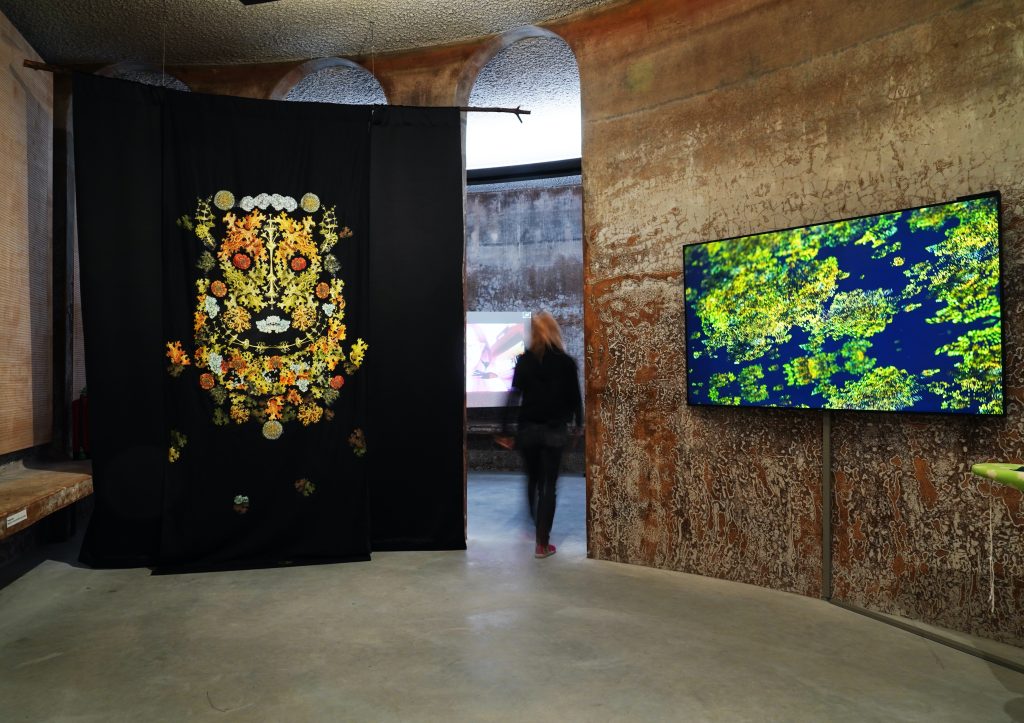 One For the Care of Many, 2023
Fabric dye sublimation printing, wood, 2.8x2m
New work; a fabric based manifestation of a  microgreenman, a micro-spirit for this root-level underground space.
Referencing the Euro-pagan Greenman and 19th century drawings by botanist, Ernst Haeckel, to generate a face of lichens, including newer lichens: the genus of lichen found to survive in space, the lichen absorbing gamma radiation near the Fukushima nuclear disaster and a climate responsive lichen emerging in the warmer winters of the Dutch new forests on recently re-claimed lands.
Flourish  2022/2023
A speculative interspecies love story, between a fungus and an algae, about that first touch, that first embrace, and what follows. A story told in lichen time, where one year passes in a second.
With digital worldbuilder, Charleton Mercelina
Sounds by Felicity Mangan
For S+T+ARTS Repairing the City, drawing on data from the City of the Hague, to identify the realworld site with the worst air, water and soil quality.
More about research: HERE
Part of a wider line of research considering learnings from lichen, and the propositional notions of care contained within the interspecies collaboration that is lichen. 
For S+T+ARTS Repairing The City project, some of this work was exhibited in Rewild,  MAXXI Rome  2022, curated by Manuel Cirauqui.
Occupying six percent of the earth and calculably metabolising two gigatonnes per year of atmospheric carbon globally, lichens are both ancient and current. At once micro-terraformers, atmospheric bioindicators, ecosystem cornerstones and discrete non-human storytellers of that blink-of-an-eye millennium in which humans have apexed across the earth.