I have 3 works in 'Creative Accounting' curated by Holly Williams.
Asking a very current curatorial question, 'Creative Accounting' explores ideas around money, economic systems, perceived value and the aesthetics of currency, at a time when money is becoming increasingly abstract. Currently open at Hawkesbury Regional Gallery, until 10th July, the exhibition will tour to six venues across Victoria, Queensland and New South Wales.
Artists include: Fiona Hall, David Shapiro, Conrad Bakker, Ian Burns, Penelope Cain, Joachim Froese, Melanie Gilligan, Andrew Hurle, Yves Marchand & Romain Meffre, Daniel McKewen, Christine McMillan, Kenzee Patterson, Ryan Presley, David Shapiro and Abdullah M.I. Syed, Jess Olivieri & Haley Forward with the Parachutes for Ladies.
http://www.thecuratorsdepartment.com/creative-accounting-upcoming/
Growth at all Costs is a two-part quasi- casting or manifestion, a tongue in cheek attempt at dark magic action towards the economy. Thinking about regalia, banners, crests, religion, military and governance, these wall works are formed from shapes of new buildings, boats, trucks and other evident forms of economic activity.  The work follows a half-formed question around the performability of commerce.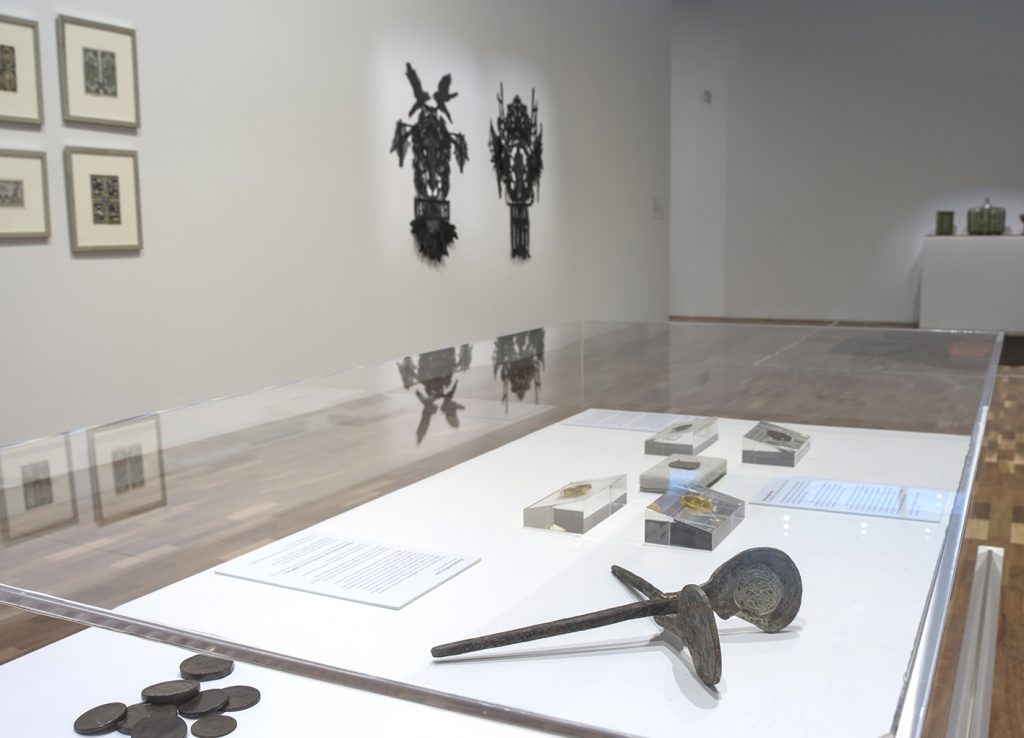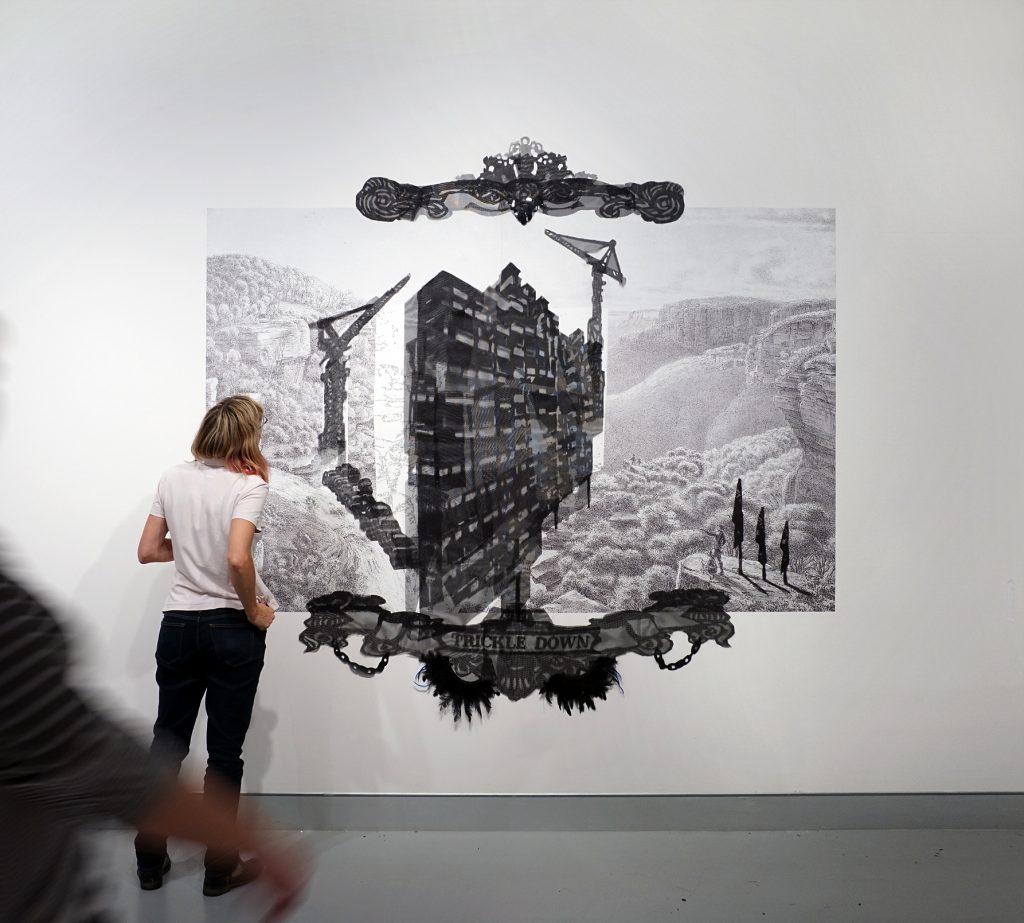 Trickle Down uses as a pivot point a 19th century lithograph by Eugene von Guerard of the Weatherboard Falls, Blue Mountains, to reflect on contemporary urban economic principles and truisms.The theory of trickle down economics was a linchpin of Reganomics and Thatcher era policies, positing that tax breaks to the wealthy will be spent, ultimately trickling down to the poor, instead of giving the tax breaks directly to the most needy. In this work I have collaged images of urban productivity- apartments, cranes and traffic-jammed cars over von Guerard's sublime Blue Mountains landscape. Von Guerard's figure in the lower right corner (channelling Casper David Frederick's male observer to the natural sublime), is backed by 3 Australian flags, sourced from Tony Abbott's media appearances.
The work incorporates a series fo ongoing themes that I am interested in- the gendered performance of capitalism, post-collonial notions of land and land ownership, and propositionally ascribing elements of the sharmanic and dark magic to the apparently rational 'economy'.
In this wider line of enquiry I have taken as a starting point a text by (American land artist) Robert Smithson, from his project, "The Monuments of Passaic" (1967), in which he identified the decaying 'ruins in reverse' and 'zero panoramas', in describing the unromantic, anti-sublime, urban, industrial service-town near New York. I am repeatedly drawn to Smithson's critical conflation of the urban landscape with the outcome of macroeconomic actions, the romantic notion of the sublime and the ruin, and a glitching of the expected linearity of time. In this Smithson offers a propositional shattering of our rational expectations of urban landscape and the economy.